Top 40 Beste Nederlandse Films
The 40 Best Films from the Netherlands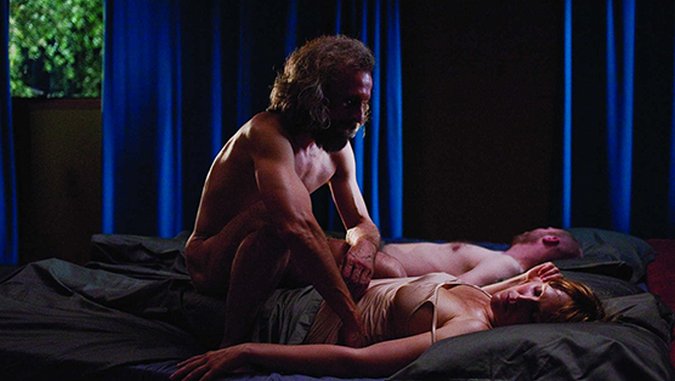 "Borgman"
(2013). Alex van Warmerdam
"Borgman"
(2013). Alex van Warmerdam
It's not hard to criticize Dutch cinema—just use
the Dutch themselves as examples. The Dutch people seem to be their own worst critics; in fact, it seems as though their movies have become a running joke, all:
Well, what did you expect?
or
It was pretty good for a Dutch movie.
Rather baffling considering directors like Paul Verhoeven and Alex van Warmerdam have reached international acclaim with
The Fourth Man
or
Borgman
respectively. So why is it that the people of Holland are so critical of their own films? Perhaps it's because, like many other countries, the Netherlands have become spoiled by big, flashy Hollywood movies with lots of action and explosions; or perhaps they feel like they're still becoming comfortable with the medium. Let's look through our picks for the best 40 films from the Netherlands to figure out why.
40. Het wonderlijke leven van Willem Parel (The Wonderful Life of Willem Parel) (1955)
Director: Gerard Rutten
Wim Sonneveld became known in the 1940s and '50s when he established himself as a brilliant actor, singer and cabaretist. After seeing a production of My Fair Lady in the U.S., he was adamant about introducing the musical to a Dutch audience and had it translated by Seth Gaaikema. It premiered in Rotterdam in 1960 with Wim in the role of Professor Higgins. Although his part in My Fair Lady was hugely successful, Dutch audiences will always remember him for his character, Willem Parel, the son of an organ player, who often spoke in general about playing the organ as much as he talked specifically about playing an organ in a sexual sense. Even though his fans loved the character of Willem Parel, Sonneveld started to hate his own creation, taking the chance to get rid of the character once and for all: In 1955 Gerard Rutten gave Sonneveld a break from his alter-ego when, in his film, had Parel step out of a promotional poster and embrace a life of his own.
---
39. Dorp aan de rivier (The Village on the River) (1958)
Director: Fons Rademakers
Based on the book by Anton Coolen, Dorp aan de Rivier tells the story of village doctor Tjerk van Taeke (Max Croiset), a local professional who genuinely cares about his patients and places more importance in their well-being than in their money. His methods aren't always orthodox, but his results usually speak for themselves: He has saved the lives of many and is especially renowned for his skill in delivering babies. Meanwhile, Dr. Van Taeke's village bears a kind of mysticism, everything somehow leading back to the river Maas, the cursed mills of the village, and a northern pike that always seems to appear during cucumber season. Such superstitions of course clash with the doctor's forward-thinking practices, especially when a patient meets a tragic fate.
This was Fons Rademakers' first feature length film, nominated for an Academy Award for Best Foregin Language Film and achieving infamy for a certain scene involving the village night-guard.
---
38. Het meisje met het roode haar (The Girl with the Red Hair) (1981)
Director: Ben Verbong
Set in Amsterdam during World War II, Het meisje met het roode haar tells the story of Hannie (Renée Soutendijk), a law student about to take her matriculation exam when she decides instead to join a resistance movement. At first, due to her lack of experience, she is not taken seriously by the other members of the movement, and when she is asked to prove her dedication to the group by murdering someone, she chickens out. Aware of her weakness, the group assigns her to work as a messenger. It's not until she witnesses the murder of a boy that she decides she wants to be directly involved in the action and finds a mentor in Hugo (Peter Tuinman). Though she proves she has what it takes to become a respected member of the resistance movement, a mission goes terribly wrong, and Hannie and Hugo are forced into hiding. From there, the entire country is in search of Hannie, the girl with the red hair.
Based on the biography of Jannetje Johanna "Hannie" Schaft, written by Theun de Vries, the film premiered at the 32nd Berlin International Film Festival. It helped boost her notoriety and, following her death, Hannie was awarded the Verzetkruis (the Dutch Cross of Resistance) and the Medal of Freedom for her fight against the Nazis during WWII.
---
37. Mira (1971)
Director: Fons Rademakers (1971)
Mira is based on Stijn Streuvels' book De teleurgang van den Waterhoek (Den Waterhoek's Downfall), and describes how the small, isolated town of Waterhoek finally joined the modern world thanks to a bridge connecting them to neighboring villages. It's a pretty standard love story, in which farmer girl Mira (Willeke van Ammelroy) is torn between two love interests, Lander (Jan Decleir) and Maurice (Luc Ponette).
Moreso, as a fascinating exploration of people's fear of change, their wariness of the unknown and their fight against all things new, the film is perhaps best known as a cinematic bridge for Dutch filmmaking into the rest of the world. As one of the first relatively mainstream Dutch movie to feature nude scenes, this film marked an important new era in Dutch film history. This caused a lot of palaver—as well as a lot of people to see the film—and, following Mira, Dutch films of the '70s became well-known for their sex and nudity. According to iconic Dutch director Paul Verhoeven (Robocop, Basic Instinct), Mira helped international audiences understand that Dutch films were also capable of "artistic depth."
---
36. Terug naar de Kust (Back to the Coast) (2009)
Director: Will Koopman
Linda de Mol is a Dutch actress typically known for chick-flicks like Gooische Vrouwen (the Dutch Sex and the City, if you will; see #33) and Ellis in Glamourland, so to see her in a psychological thriller was more than surprising, it was refreshing. In Terug naar de Kust, the actress slips into the skin of Maria, a mother of two who, upon discovering she's pregnant, decides to abort the baby against the wishes of her partner. But not long after the procedure, Maria is tortured by threatening letters, disturbing phone calls and even a dead rat in the mail. Shaken, she leaves her Amsterdam home to stay with her sister Ans (Ariana Schluter), who still lives in their old family home near the coast. Of course, the anonymous stalker has traced her back to her sister's home, continuing the mind games, while Maria fears her ex-husband Martin (Jaap Spijkers), who disappeared off of the face of the earth, might have something to do with it.
Based on the book by Saskia Noort, which does better that the movie in terms of creating a suspenseful atmosphere, Terug naar de Kust is worthwhile if only for Linda de Mol's atypical performance.
---
35. De lift (The Elevator) (1983)
Director: Dick Maas
If elevators make you feel claustrophobic—if something inside you keeps nagging, Take the stairs, take the stairs, for God's sake, take the stairs—you probably won't enjoy the horror flickDe lift. Made in just 32 days on a budget of 750,000 Guilders, it was the first Dutch movie to nab a worldwide release.
As you may have gathered by now, the film finds four people who, following a lightning storm, become trapped in an elevator which seems to have taken on a murderous life of its own. First it becomes apparent that the air ventilation has been shut off, causing the group to almost suffocate. As it turns out, the elevator is only just getting started, and as the accidents became more and more brutal and severe, the elevator mechanic called in to help, Felix (Huub Stapel) is so baffled by the elevator's behavior, he tries to investigate the fabricant of the elevator's microprocessor, Rising Sun, with the help of journalist Mieke de Beer (Willeke van Ammelroy), eventually uncovering the real mystery behind the elevator's crazy tendencies.
The making of De lift wouldn't have been possible without the help of the elevator manufacturer Schindler Liften. The company provided the set with two elevator mechanics that helped realize Dick Maas's horrible vision on a daily basis.
---
34. De aanslag (The Assault) (1986)
Director: Fons Rademakers
January 1945. World War II is slowly drawing to a close but the Netherlands are still under Nazi occupation. In Haarlem, the family Steenwijk is at home playing a game of "Mensch ärgere dich nicht":https://en.wikipedia.org/wiki/Mensch_%C3%A4rgere_dich_nicht. The youngest of the family, Anton (Derek de Lint), is about to roll the dice when they hear the sound of gunfire. Turns out, Nazi collaborator Fake Ploeg (Huub van der Lubbe) has been murdered, his body left right in front of the Steenwijk's house, which, in not time, is stormed by the Nazis, who suspect them of having killed Fake Ploeg. Though Anton's whole family is executed, and their house burned down, Anton is taken to prison, where he meets the mysterious Truus Coster (Monique van de Ven), who tries to console him:
Based on the book by Harry Mulisch, De aanslag mercilessly depicts the scars and war can leave on a young mind. No matter how hard he tries, Anton cannot shake the events of that fateful night, haunted forever by images of fire and the sound of rolling dice. Worth noting: The plot isn't based on any historical assault in particular, but rather a combination of several stories, including that of the liquidation of police agent Fake Krist, as well as that of W.M Ragut, a passionately hated resistor who was shot off of his bike by the aforementioned Hannie Schaft (see #38).
---
33. Gooische Vrouwen (Vipers Nest) (2011)
Director: Will Koopman
Following the success of the TV series Gooische Vrouwen, creator Linda de Mol turned to Will Koopman to direct the film version. The series, often likened to Desperate Housewives and Sex and the City, follows the lives of four women living in Het Gooi, where all the hip and happening tastemakers reside. In the film, we revisit our protagonists as they go through their decadent-yet-chaotic everyday lives. There's Cheryl (Linda de Mol), whose husband Martin (Paul Morero) is a popular Dutch singer who can't say no to other women, admitting to his dick having a mind of its own. Claire (Tjitske Reidinga), besotted with her grandson, is shocked to find out that her daughter Merel (Mea de Jong) has decided to move her family to Burkina Faso, and she can't imagine life without them. The free-spirited Anouk (Susan Visser) finds a new admirer in a fellow artist but keeps him at a distance out of respect to her daughter Vlinder (Lisa Bouwman), with whom her relationship is already strained. Meanwhile, the naïve and eccentric Roelien (Lies Visschedijk) has decided to become a spokesperson for environmental issue and chains herself to an old tree that is supposed to be cut down. So, when things get to be too much for the women in Het Gooi, they pack up and drive to Paris (in a conspicuously colorful hippie van), where they hope to ditch their material lives and find inner peace by following a spiritual course.
---
32. Abel (1986)
Director: Alex van Warmerdam
Abel (Alex van Warmerdam) is a strange, 31-year old boy who still lives with his parents. He hasn't left the house in ten years and his hobbies involve spending his days spying on his neighbors and trying to cut flies mid-air with a huge pair of scissors. His mother Duif (Olga Zuiderhoek) coddles Abel whereas his bitter old father Victor (Henri Garcin) is tired of his antics and wants him out of the house. Abel constantly turns his parents against each other—though, it really doesn't take much to start them quarrelling as their marriage is not a happy one. Yet, after Abel crosses his father one too many times, Victor kicks his son out of the house. On the streets, Abel meets the peepshow-performer Zus (Annet Malherbe), who takes him in; he knows she is seeing a married man but that doesn't stop him from developing feelings for her. But how will he feel when he finds out the man Zus is seeing is in fact his own father?
In addition to serving as a starring vehicle, Abel was Alex van Warmerdam's directorial debut. Initially, he'd hoped Frans Weisz would direct—preferably in black and white—but due to the personal nature of the story, van Warmerdam finally took up the reins himself. Which was a good idea: Abel went on to win the Golden Calf (Netherlands Film Festival) award for Best Film and Best Director.
---
31. De Noorderlingen (The Northerners) (1992)
Director: Alex van Warmerdam
Alex van Warmerdam considers De Noorderlingen to be his best film. We can see why: De Noorderlingen is something of an epitome of van Warmerdam's films, exploring the essence of conflicting personalities (especially within a family) and the resulting dysfunctional relationships in an absurdly light-hearted (yet crass, of course) manner. Set in the 1960s on a new housing estate consisting of one street and the bordering forest, the film follows the residents as, with little to do and only each other's lives to keep them entertained, they occupy a surreal world driven by fantasy, lust and threats. Butcher Jacob (Jack Wouterse) has a wild sex drive and will go to extremes to satisfy his needs. His wife Martha (Annet Malherbe) falls further and further into depression, finding solace in religion, even going on a hunger strike, which encourages women in the street to stop by Martha's window to pray as if the woman were a prophet. Meanwhile, Jacob and Martha's son Thomas (Leonard Lucieer) lives in his own fantasy world assembled from news articles revolving around the liberation of Belgian Congo. Thomas is aware of a world outside of the estate—everyone else seems to think the world ends at the edge of the forest.
As far as accolades go, De Noorderlingen won the 1992 Felix Award for the Best Young European Film of the Year, while art director Rikke Jelier won a Felix prize for Best Production Designer of the Year and Alex van Warmerdam's brother Vincent took home Best European Film Composer of the Year.
---
30. Zusje (Little Sister) (1995)
Director: Robert Jan Westdijk
Daantje (Kim van Kooten) is a young student in Amsterdam whose older brother Martijn (performed by Romijn Conen, voiced by Hugo Metsers III) shows up on her doorstep one day to announce he is going to shoot a documentary about her. She's not really sure what to make of it, but she humors him anyway, though the audience senses a kind of tension and strange vibe between the two.
Filming with a hand-cam, Robert Jan Westdijk styles Zusje like a home movie, allowing the audience to connect with the characters intimately—which of course becomes too intimate for Daantje when Martijn insists on filming the inner details of her romantic relationship with Ramon (Roeland Fernhout). The story between brother and sister runs deep: Martijn is literally trying to take control of her life in an attempt to overcome an incident with Daantje in the past.
Well loved, Zusje won eight international film prizes, including a Golden Calf and the main prize (Golden Tulip) at the International Istanbul Film Festival in 1996.
---
29. Karakter (Character) (1997)
Director: Mike van Diem
Jacob Willem Katadreuffe (Fedja van Huêt) doesn't have it easy growing up. Born to Jacoba "Joba" Katadreuffe (Betty Schuurman) out of wedlock, he's incessantly bullied by his classmates for being the bastard child of a woman everyone considered a whore. The result of a one-night stand between Joba and Arend Barend Dreverhaven (Jan Decleir), Jacob does not know who his father is, though Dreverhaven proposed marriage and offered Joba money before she decided to leave town. When the constant bullying and gossip gets too much for mother and son, she again moves, an escape (and a strange relationship with his mother) which over time begins to overwhelm Jacob. To avoid his mother, Jacob takes out a loan to buy a cigar shop, the first move in a plan to crawl his way up from poverty, a plan that leads to a number of financially dubious situations for Jacob—as well as back, unbeknownst to him, to his biological father.
The film is an adaptation of Ferdinand Bordewijk's 1938 novel of the same name. Bordewijk, who was a junior partner at a law-firm in Rotterdam before opening his own practice in Schiedam in 1919, used many of his experiences as a lawyer as inspiration for his fiction. Like Jacob's aspirations, Karakter went through many versions before this, first published as a series in the magazine De Gids before becoming a novel, and then adapted for screen in the form of a TV miniseries starring Ko Van Dijk as Dreverhaven and Lex van Delden as Katadreuffe. ThisKarakter, directed by Mike van Diem, won several prizes, including the 1998 Academy Award for Best Foreign Film.
---
28. Wilde Mossels (Wild Mussels) (2000)
Director: Erik de Bruyn
Erik de Bruyn referred to Wilde Mossels as aardappelwestern—a "potato western"—which takes a look at the lives of three young guys stuck in the platteland (countryside) of Zeeland, where shit all ever happens—unless you make it happen. Meet Leen (Fedja van Huêt), a young guy with a wild mane and big dreams who fancies himself to be the next Evil Knievel. He whiles away his days with his friends Daan (Frank Lammers) and Jacob (Frederik Boom), riding their motorcycles (or in Jacob's case, a scooter), chasing girls, drinking beer and shooting old cans. They all long for excitement, to escape their lives in the countryside, to turn out differently from those they grew up around. When Leen meets an Irish person and becomes enamored with his new goal—to build a life for himself in Ireland—his friends perfectly sum up the attitude that keeps people from ever embracing change: "Je hebt alles toch hier, wat wil je nog meer?" ("You've got everything here, what more do you want?")
Like Dazed and Confused meets Quadrophenia, but with a strong, authentic "Zeeland" feel,Wilde Mossels is a film purposely without any major aesthetic beauty, instead focused on bathing its events in the unattractive haze typical of the Dutch farmlands.
---
27. Van God Los (Godforsaken) (2003)
Director: Pieter Kuijpers
Between 1993 and 1994, a series of murders took place in the region of Limburg, known most famously as the carnavalsmoorden (carnival murders). The men responsible, called the Bende van Venlo (Gang from Venlo), regularly made headlines with robberies, break-ins and charges for drug dealing. In the film Van God Los, we glimpse the origins of the ruthless gang, and thus the tide of crime that captivated the Dutch people for so many years.
Stan (Egbert Jan Weeber) is a young student who has no real friends, plus he can't seem to get over the fact that he was abandoned by his father. One day he meets Maikel (Tygo Gernandt), who is on the run from the police with some stolen loot. When Maikel hides the goods in Stan's bag before the police bring him in, the authorities have no choice but to release the thief, allowing Maikel to meet up again with Stan and form a close bond, becoming partners in crime. Their quests become more and more violent until finally they spiral out of control, costing many innocent people their lives.
In 1997, 18 men between the ages of 14 and 56 were arrested in relation to the Bende van Venlo. This included Freenkie Peeters and Sanny Peters, on whom Maikel and Stan were based.
---
26. De Tweeling (Twin Sisters) (2002)
Director: Ben Sombogaart
Twin sisters Anna and Lotte are inseparable: They play together, wear the same clothes and sleep in the same bed. Yet, following the death of their parents, the girls are abruptly separated, Anna staying in Germany to become a laborer while Lotte is taken to Holland, where she grows up with a family who can offer her everything. For a long time they write letters to each other, but due to the ensuing war, the letters never arrive.
As adults, Anna (Nadja Uhl) finds herself infatuated with an SS officer, Martin (Roman Knizka), to the dismay of her stepfather, but she ends up marrying the soldier anyway. On the contrary, Lotte's (Thekla Reuten) partner David (Jeroen Spitzenberger) is taken to Auschwitz shortly after their engagement, never to return. When the twins finally see each other for the first time in years—when Lotte visits Anna in Germany as World War II begins—Lotte, who has not yet experienced the politics of war, is shocked by Anna's surroundings, finding it hard to accept the only life Anna has ever known and seemingly convinced that here sister has adopted the Nazi philosophies responsible for David's death. What will happen when they meet again, 50 years later? Get a box of tissues ready.
Based on the novel by Tessa de Loo, the film won the Golden Calf for Best Long Feature Film and was nominated for a Best Foreign Film Oscar in 2004.
---
25. Cloaca (2003)
Director: Willem van de Bakhuyzen
What started out as a vacation job archiving paintings for his local municipality turned into a 22-year gig for Pieter (Pierre Bokma). His colleagues don't show any interest in him at all, so, to make himself feel better about his shitty work life, he has established a special birthday ritual: Every year he takes a painting from the municipality's depot. As Cloaca begins, Pieter is in possession of at least eight Van Goppel paintings, which have just shot up in value due to the painter's recent death.
When his boss takes him out to dinner, Pieter thinks it might be the man's way of making up for his lack of interest in Pieter and his work—but as it turns out, his boss found out about Pieter's birthday ritual and is now asking for the paintings back or, at least, the Van Goppel pieces. Thing is, Pieter used four of them to pay off his apartment, which is when he calls in the help of his old college friends Joep (Gijs Scholten van Aschat), a politician who was just left by his wife; Tom (Peter Blok), a former lawyer who lost the plot thanks to a severe cocaine habit; and Maarten (Jaap Spijkers), a theater director who can best be described as a viezerik (slob/pervert). Also; Joep's 18-year-old daughter Laura (Caro Lenssen) has a nude part in Maarten's play; needless to say Joep is not impressed. Imagine how he'll feel when he finds out Maarten is having sex with her too.
Cloaca was first staged as a play, directed and written by Maria Goos. Whereas the play has a lot of comic elements that bring some levity to its often somber and pathetic atmosphere, the film seems to have exaggerated the story's characters' flaws, and with it the hopeless feel of Pieter's situation. Dissecting the strong relationship college friends are still able to maintain so many years after they graduate, Cloaca is pessimistic about what that unchanging bond means for these men so many years later—when, as adults, the friends still greet each other with "Cloaca," the Latin word for "sewer" or the anatomical term for the orifice leading to the intestinal and urinal tract of birds, fish and reptiles. In other words, all these years later, they're still assholes.
---
24. Zwartboek (Black Book) (2006)
Director: Paul Verhoeven
When Paul Verhoeven returned to his Dutch roots after years in Hollywood working on films likeTotal Recall (1990) and Basic Instinct (1992), it only seemed natural for him to revisit a theme that has become typical of Dutch cinema: World War II. Having already explored this era inKeetje Tippel (see #14) and Soldaat van Oranje (1977), you would think his inspirations on the topic would have run dry, but, although Zwartboek is set in World War II, it doesn't necessarily focus on the type of imagery we usually associate with war films, and especially with World War II. Rather, the film can be viewed more as an adventure story told from the perspective of a Dutch resistance fighter.
Following the tragic murder of her family and several other families in her refugee party, Rachel Stein (Carice van Houten) changes her name to Ellis de Vries, dyes her hair—all of her hair—blonde, and adopts a new persona in an attempt to gather information from the Nazis. This leads her to an unexpected love affair with Hauptsturmführer Ludwig Müntze (Sebastian Koch) and a friendship with Ronnie (Halina Reijn), a Dutch colleague who bonds with the Germans through sex and seduction. Through Rachel's experiences, we begin to understand the war not as a measure of incomprehensible cost for the human race, but as a personal story of malleable morals and deeply individual sacrifice.
The story was written in collaboration with Gerard Soeteman, with whom Paul Verhoeven had previously worked with on Soldaat van Oranje and Turkish Delight (1973). Verhoeven described the feeling of his film as one that would never fit within the American film system:
---
23. Komt een vrouw bij de dokter (Stricken) (2009)
Director: Reinout Oerlemans
With Reinout Oerlemans' Komt een vrouw bij de dokter (literal translation: "a woman goes to the doctor"), prepare yourself for a deeply emotional rollercoaster. Stijn (Barry Atsma) is a rich advertising executive who, as one might expect, is an arrogant lothario. He is married to Carmen (Carice van Houten), with whom he shares a loving, exciting relationship, as well as a lot of freedom: Carmen knows of his infidelities but seems to live with them, proffering a "that's just how he is" kind of attitude. Yet, when Carmen is diagnosed with breast cancer, their relationship is put to the test. Although Stijn supports his partner, he still has a hard enough time getting used to the change in her that he feels life as they know it slipping away. So, he finds comfort in the arms of Roos (Anna Drijver), beginning a wild affair—that is, until Carmen goes into remission.
Although the film was described as an "Ode to Love," various critics disagreed, instead declaring the film to be an "Ode to Adultery." Either way, Carice van Houten, Barry Atsma and Anna Drijver deliver outstanding work in their respective roles.
---
22. Bloed, Zweet en Tranen (Blood, Sweat and Tears) (2015)
Director: Diederick Koopal
September 23, 2004 marked a sad day for the Netherlands: The whole country was in mourning as they said goodbye to the folk singer André Hazes, the man who provided the soundtrack to many lives from the mid-'70s through the early 2000s. Andreas Gerardus Hazes was first discovered by Jonny Kraaykamp when he was singing, only eight years old, at the Albert Cuypmarkt in Amsterdam. Though Kraaykamp got him onto the TV show AVRO's Weekendshowand enabled him to release the single "Droomschip" ("Dream Ship"), his career as a child star didn't quite take off. But later, Hazes' singing talents were rediscovered when Willy Aberti caught him singing at the café De Krommerdt, where he worked as a barkeeper. By 1980, he was signed to the label EMI, where he released several hit singles and finally reached a public audience.
As is usually the case, Hazes was not only famous for his incredible pipes, he was also known to be constantly chain-smoking and getting by on a diet of beer (preferably Heineken). In 2004, no longer able to hear himself speak, Hazes was diagnosed with tinnitus. On September 21, he was taken to hospital with a high fever. Two days later he died of a heart attack.
On September 27, 48,000 people gathered in the Amsterdam ArenA for a goodbye concert dedicated to André Hazes. Renowned Dutch artists such as Trijntje Oosterhuis, Guus Meeuwis and Paul de Leeuw performed some of Hazes' most famous songs. The ceremony ended with his coffin being carried through the Amsterdam ArenA. A year later, some of his ashes were sent into the skies care of fireworks.
Bloed, Zweet en Tranen tells this story, that of André Hazes' life and career, with the incredibly talented Martijn Fischer in the starring role.
---
21. Infiltrant (Infiltrator) (2014)
Director: Sharrif Korver
Culture clashes are reoccurring themes in Dutch cinema. It's a common concept in
Dutch comedy
, but it of course can be mined for a crime drama.
Infiltrant tells the story of Sam (Nasrdin Dchar), a police officer working in the Netherlands who descends from a Dutch mother and Moroccan father. Whilst dealing with a case of domestic violence, Sam assaults a man known to abuse his wife, causing Sam's superiors to suspend him from the force. With no other options, he returns to his former life as a real estate agent, and there meets Abdel (Walid Benmbarek) and Bourhim (Rachid El Ghazaoui), Moroccan drug dealers in need of a short term rental space—only they don't know him as Sam but as Said. In order to bring down the notorious Moroccan drug gang, the police offers Sam one last chance, under one condition: He must go undercover and infiltrate the gang. Sam soon finds himself torn between the loyalty towards his new-found Moroccan "brothers" and his commitment to the Dutch police.
The film was received well by the Toronto International Film Festival and the Netherlands Film Festival, both of which had high praise for Nasrdin Dchar, Walid Benmbarek and Rachid El Ghazaoui, better known as rapper Appa, who was also in charge of the film's soundtrack.
20. Helium (2014)
Director: Eché Janga
When the infamous gangster Frans Weeling (Hans Dagelet) is forced to go into hiding from his Nigerian competition, he ends up in a holiday park on the island of Texel in North Holland. Frans has never been a man of many words—he knows how to make his point clear without forming full sentences—but with nothing but the rustling of trees, the changes of the winds and the gentle lull of the ocean's waves surrounding him, Frans has no choice but to face one of the scariest confrontations of all—with himself. And so, he soon comes to realize that he is of no big significance, not in the universe and no longer in the underbelly of Amsterdam's crime world. When Frans finally returns to Amsterdam, it becomes clear that his days as top dog are numbered.
What makes this film special is its sound—not its soundtrack, but the sounds of the Texel environment that envelop it. Lending a calmness, an almost meditative state to the film, these natural noises contribute to the intimacy at the heart of Helium. We are invited to witness the very personal change in a man who has come to the realization that his life has consisted ofneerknallen (not literally: "shooting people") and gezeik om een paar ton ("bitching about a few ton")—actions he once deemed important and now perceives as worthless.
---
19. Afscheid van de Maan (Farewell from the Moon) (2014)
Director: Dick Tuinder
In the '60s and '70s, everything was changing, all over the world. Perhaps more than in art or technology, strict ideas of a traditional family structure made way for free love, preferably under the influence of drugs. It's this era that Afscheid van de Maan dissects, in which Bob (Marcel Hensema) and his family live on the eighth floor of an apartment building, his marriage to Piet (Lotte Proot) a routine that's become overbearingly stagnant. When Loes (Pauline Greidanus) moves in next door, she brings new life to the eighth floor: Intrigued by her art and her open-minded attitude, Bob leaves Piet for Loes and moves in with her straight away. Piet understandably feels like Bob has lost his mind, and can't forgive him for abandoning their children Duch (Ward Jansen) and Esther (Dana Zelcer). The kids, on the other hand, use their father's experimental phase as a stepping stone to explore their own sexualities, intrigued by the wild parties taking place next door.
The film is a beautiful example of a time in which many people felt torn between two very different worlds—that of the past, the life one's always known guided by the rules one's always followed, and that of the future and all of its taboo-redefining tendencies. As such, the nostalgic background in Afscheid van de Maan truly makes this film, which was filmed in the apartment building Zonneflat in Deventer, where director Dick Tuinder grew up.
---
18. Amsterdamned (1988)
Director: Dick Maas
Having focused on the Flodder family for long enough, Dick Maas went back to exploring the darker aspects of cinema with the pulp-style thriller Amsterdamned. In the film, the canals of Amsterdam are haunted by a blood-thirsty killer who seems to choose his or her victims at random. The only thing that remains a constant in this killing spree are the locations: Victims always seem to turn up in or around the water. Detective Eric Visser (Huub Stapel) is on the case, which soon leads him to the local diving club. Eric calls in the help of John (Wim Zomer), a fully trained diver from the water police, in the hopes of finding a trace that will lead them to the canal-loving murderer.
Amsterdamned proves just how impressive the backdrop of Holland's capital is on the big screen, especially in the gritty 1980s. Unfortunately, some scenes were shot in Utrecht, due to problems filming on location, and filming in de Wallen (the Red Light District) wasn't possible so, instead, the Groenburgwal was decked out with red lighting for a few days. Regardless of its purity, watch this movie and you'll never feel the same about Amsterdam, or its pretty, canal-lined streets, ever again.
---
17. Jan Rap en z'n maat (Jan Rap and his friend) (1989)
Director: Ine Schenkkan
Yvonne Keuls is an author who bases most of her books on the experiences she had as a social worker, to the extent that some of her novels, such as Het verrotte leven van Floortje Bloem (The Fucked Up Life of Floortje Bloem) and Jan Rap en z'n maat, are often found on Dutch school curricula. There have also been countless theater productions of Jan Rap en z'n maat, but, in 1989, Ine Schenkkan adapted this touching story of a shelter for desperate youths for the big screen.
The shelter welcomes teenagers of all backgrounds. Gemma (Heidi Arts) is a loud, foul-mouthed young girl with a big heart. When she finally gets sick of being shipped back and forth between foster homes, she ends up at the shelter, and there Charrie (Erik Arens), a young boy with a severe stutter, comes to depend on her. Another resident is Derek (Paul de Leeuw), barely seventeen, who's been getting by as an in-house prostitute—which of course has left him with some deep-seated trauma. As more and more children with problematic backgrounds, ranging from drug abuse to incest, come fleeing into the welcoming arms of social workers Koen (Jack Spijkerman) and Tymen (Edwin de Vries), it becomes increasingly clear that the shelter is under-staffed and overwhelmed with the situation, painting a comprehensive picture of the Dutch social welfare system.
Everyone in Holland knows Jan Rap en z'n maat, but the character everyone probably remember most is Gemma. Heidi Arts did an amazing job at slipping into the role of this blunt girl from The Hague, what with her crazy clothes and creative swearing.
---
16. Het Diner (The Dinner) (2013)
Director: Menno Meyjes
There's nothing a parent won't do to protect his or her children from the world—but, what if those children have done something so incredibly horrific we're forced to wonder if it's the world that needs protecting from them? This is what brothers Paul (Jacob Derwig) and Serge (Daan Schuurmans), with their wives Claire (Thekla Reuten) and Babette (Kim van Kooten), have come to discuss at a fancy restaurant. Eventually.
Spending a lot of time beating around the proverbial bush, watching as these characters exchange superficial pleasantries, in ,i>Het Diner, director Menno Meyjes plays with subtle details to encourage viewers to read between the lines—to pay attention to body language, to one's environment, to everything but what's ostensibly said. Their kids and how to deal with the mess they've made of their lives may be the central focus of the story, but it is by no means the only conflict between the protagonists: The underlying tone of discomfort can be traced back to the difference in attitudes in both couples. That Paul and Claire feel rather out of place in the expensive restaurant, whereas Serge and Babette feel right at home, acts as an aperitif for the main course of disagreements to come.
After reeling in various awards in the U.S. following his work writing for Steven Spielberg in The Color Purple (1985) and Empire of the Sun (1987), as well as directing Martian Child in 2007, Meyjes returned to his roots to prove that Dutch cinema is still very much alive and kicking.
---
15. De Heineken Ontvoering (The Heineken Kidnapping) (2011)
Director: Maarten Treurniet
With a yearly beer production of around 139.2 million hectoliters and 190 breweries in more than 70 countries, Heineken is the third largest brewer in the world. So when four small-time wannabe gangsters decided to kidnap chairman and CEO Freddy Heineken in 1983, you can see why they chose him in particular.
Cor van Hout (Gijs Naber), Frans Meijer (Teun Kuilboer) and Jan Boellaard (Korneel Evers) had been toying with the idea of kidnapping some VIP for a while. When Rem (Reinout Scholten van Aschat), the brother of Cors' girlfriend (who hates Heineken and everything it stands for after his father was fired from the company due to alcoholism), suggests Frans, Jan and Cor kidnap Freddy Heineken (Rutger Hauer)f—letting him in on the action—the four begin to carefully plan their crime. Successfully, they nab both Freddy and his chauffeur Ab Doderer (Menno Van Beekum), paid a ransom of 35M Guilders for their trouble, but unfortunately they never get to actually enjoy the money…
The film was popular enough to garner a
remake for English audiences in 2015
(or a re-adaptation of Peter de Vries' book about the affair, depending on how you want to look at it), starring Anthony Hopkins in the role of Freddy Heineken.
---
14. Keetje Tippel (1975)
Director: Paul Verhoeven (1975)
Following the massive box office success of Turks Fruit (see #7), Paul Verhoeven went on to direct Keetje Tippel, a sweeping historical drama (the most expensive Dutch production ever up until that point) set in 1881 in the small town of Stavoren in Friesland. This is where Keetje and her impoverished family live—that is, until they follow more and more people from the countryside and move to bigger towns and cities. Keetje has high expectations for Amsterdam and dreams of making a better life for herself and her family, though her relationship with them is conflicted at best. She doesn't really share their morals and is disgusted by her sister Mina, the kind of person who would gladly trade sex for two bacon sandwiches. So, in an attempt to find her independence, Keetje starts working at a laundry, but even there she's treated like an outsider by her coworkers. Fed up with their attitude, she quits her job and starts working as an attendant in a hat shop. One night, when her boss sends her to deliver hats to a bordello, she finds Mina working there. On her return to the hat shop, she is raped by her boss. Though these events cause her to lose her formerly strong sense of values, Keetje is not one to give up. The rest of her story unfolds with epic scope—and in the process afforded Verhoeven another popular film, though much later in his career he'd go on to state that it was the only film of his he'd ever thought of remaking.
---
13. Kankerlijers (Cancer Sufferers) (2014)
Director: Lodewijk Crijns
As is usual for foreigners making a new start in a different country, the first words they will learn are the bad ones. One thing anyone will learn quickly as a foreigner in Holland is that the majority of Dutch swear words are related to illnesses—and they are pretty crass at that. "Piss off" is translated into krijg de kolere ("get the cholera"), and any random asshole is described as akankerlijer ("cancer sufferer"). If really angry, instead of kut ("cunt," a.k.a. the Dutch equivalent of "fuck") some people will just shout kanker ("cancer"). True story. If you're new to Holland, you better get used to people wishing the herpes on you.
Olivier (Gijs Blom), Nick (Massimo Pesik), Iwan (Jasha Rudge) and Pepijn (Ramon Verkooijen) are actual kankerlijers (seriously, it hurts me to use this word) in the pediatric oncology department of a hospital. The teenagers have been diagnosed with bone cancer: Nick and Iwan have already lost one leg to the disease, Pepijn is undergoing radiation, and Olivier refuses to go through any more chemo. Yet, their lust for life keeps going: They spend their days racing their wheelchairs through the hospital, visiting people in different departments and smoking weed with hospital admin employee Alfredo. When Gina (Vera van der Horst), the beautiful beach volleyball player, becomes Iwan's new roommate, things get exciting for the boys.
Kankerlijers is the Dutch remake of the Spanish film Planta 4ª by Antonio Mercero, which won an award at the Cinekid Festival in 2005.
---
12. Spoorloos (The Vanishing) (1988)
Director: George Sluizer
Ever wondered what makes a mastermind like Stanley Kubrick shake in his boots? The answer isSpoorloos, which was apparently the most "terrifying" film he'd ever seen (and this, coming from the guy who made The Shining). In fact, what makes this thriller so unnerving is that it's told all topsy-turvy: Instead of spending two hours trying to figure out the identity of the bad guy, we're introduced to him right away.
Raymond (Bernard-Pierre Donnadieu) is trying to put himself through the ultimate test. Having saved a young girl from drowning, and celebrated as a hero by his daughters, he wants to find out whether his act of kindness can be followed up by a similarly impressive act of evil. As the film allows Raymond to, over time, investigate the line between sociopathy and psychopathy, he spends hours meticulously planning how to best go about abducting a woman, rather than rescue one. He experiments with chloroform, purchases an isolated house and practices different ways of getting unknowing women to get into his car. He finally finds the perfect victim in Saskia (Johanna ter Steege). Saskia and her boyfriend Rex (Gene Bervoets) are traveling through France when they stop at a service station. After a romantic moment beneath a tree, Saskia goes into the petrol station to buy some drinks. She never returns.
Three years later and Rex still hasn't given up on finding Saskia. Raymond follows Rex's plight on TV, fascinated by his determination. Which is when Raymond contacts Rex, offering to let him in on Saskia's fate—but only if Rex is willing to give his life up for answers. Based on Tim Krabbé's book The Golden Egg (Het Gouden Ei), the film was submitted to the 1988 Academy Awards for Best Foreign Language film but, due to the majority of the film being French, it was disqualified, leaving the Netherlands unrepresented for the first time since 1972. Sluizer later remade his own film for American audiences, with Jeff Bridges as the antagonist to Kiefer Sutherland's boyfriend character, but its ending was drastically changed.
---
11. Ik ook van jou (I Love You Too) (2001)
Director: Ruud van Hemert
Just one look at the trailer of Ik ook van jou brings back memories of Paul Verhoeven's Turks Fruit, albeit in a modern setting—especially the scene showing Reza (Angela Schijf) standing topless in the rain. Ik ook van jou is based on the book by Ronald Giphart, concentrating on Erik (Antonie Kamerling), an up-and-coming writer who has just handed in his first manuscript, which is all about his first big love, Reza.
When Erik first met Reza, he couldn't believe his luck: Her impulsive ways were contagious; finding himself head over heels in love with her was a given. But love can blind, and once she moves in with him, Erik discovers a whole new side to her, complete with rage blackouts, insane jealousy and self-harming. As much as he loves her, their relationship is doomed. So, after handing in his manuscript titled Ik ook van jou, he takes off on vacation to France with his friend Fräser (Beau van Erven Dorens). During their time there, they meet Silke (Florence Kasumba) and Nadine (Dorothee Capelluto), with whom they start a summer romance. But Erik's mind is still with Reza.
According to some accounts, various actors and other people associated with the movie were rather unhappy about director Ruud van Hemert's way of working. His response was simple:
---
10. Oesters van Nam Kee (Oysters at Nam Kee's) (2002)
Director: Pollo de Pimentel
Berry (Egbert Jan Weeber) is a young guy always trying to find his next thrill. His mum thinks he's still attending grammar school but, in reality, he spends his days smoking weed and hanging out with his amateur criminal friends in the heart of Amsterdam. He acts like a little gangster who's always got groote praatjes ("big stories") for anyone who wants to listen, but deep down he is insecure and rather sensitive. One day he meets the alluring Thera (Katja Schuurman), a dancer working for a strip club in de Wallen who proudly boasts about the fact that she can give a guy a boner by merely looking at him. Thera is a little older than Berry but that doesn't stop them from embarking on a beautifully insane romance. They spend every free minute together, and would happily spend every day eating oysters at Nam Kee's, their favorite hangout in Amsterdam's Zeedijk. But the honeymoon doesn't last all too long. Berry is losing trust in his friends and clings on tightly to Thera, who is dealing with her own issues: She suffers from bouts of epileptic attacks. And when she suddenly disappears one day, Berry's world comes crashing down.
Weeks before the movie premiered, all of Holland was already talking about it. Rumors had it that the steamy sex scenes were too explicit for the test-audience and several scenes were cut. On top of that, Katja Schuurman and Egbert Jan Weeber made their off-screen romance official, undoubtedly increasing ticket sales.
---
9. Supernova (2014)
Director: Tamar van den Dop
The feeling of wanting more, of wanting to explore and experience and discover is never stronger than when you're a teenager—when you're challenging yourself and others, figuring out whom you and those around you really are. But what if there's no one around to challeng, and no one around to challenge you? What if there's absolutely shit all to do where you live?
Well, in that case things can get frustratingly boring. Meis (Gaite Jansen) can tell you all about that. Meis is fifteen years old and lives on the sharp turn of a long, lonely country road in the middle of nowhere. The only form of excitement in this area is when a car flies off the turn and once again crashes into their house. For this reason, they have built a wall to protect their whole house from cars flying through their window and into the living room. Despite the excitement of flying cars, Meis and her family live in such close quarters they really don't have much to say to each other. Instead, Meis whiles away the hours in her own little world where scientific facts and principles rule. A coming-of-age film laced with the hushed, whispered tones of Meis's inner thoughts, Supernova is gorgeous and mesmerizing, seemingly light years away from Hollywood.
---
8. App (2013)
Director: Bobby Boermans
Psychology student Anna (Hannah Hoekstra) wakes up one day to find that a new app called Iris has been downloaded onto her phone. She realizes it answers random questions and can act as a day-to-day aid—imagine the OS in Spike Jonze's Her, but in app format. On top of providing Anna with random facts and notifying her of important meetings and dates, Iris seems to know every detail concerning Anna's private life and, as these things usually go, it's not long before the app is making decisions for her on its own account…even deadly ones.
"Terror in the palm of your hands," reads the tagline of this techno-horror—which even comes with its own app designed for second-screen usage. Most kids these days can't sit through an entire movie without simultaneously checking their phones or iPads, so the team behind Appdecided to embrace this, well, phenomenon. A technological breakthrough for Dutch cinema, the film used the app to trigger alternate angles during certain scenes, for example, or to allow the viewer extra information via newspaper articles sent directly to one's phone.
---
7. Turks Fruit (Turkish Delight) (1973)
Director: Paul Verhoeven
Based on one of the most intense love stories ever, written by Dutch author Jan Wolkers, the filmTurks Fruit truly encompasses the literary beauty of the relationship between Olga (Monique van de Ven) and Eric (Rutger Hauer).
Olga and Eric's first encounter is far from romantic—it involves zipped-up foreskin and a car accident. Giving Eric the blame, Olga's mother denies her the right to see him again, but Eric goes through great lengths to find her. When he does, he's determined never to let go again. They marry within weeks; they share a passionately tumultuous year together. Finally, though, Olga's mother manages to get between them. When Olga leaves, Eric falls into a pattern of meaningless one-night stands in the desperate hope of finding someone like her again, but none of these random women can live up to his ideal of her. When Olga asks Eric to meet her to finalize the divorce, she collapses in the bathroom. And when they eventually reunite, the passion of their year together can't last.
A controversial film for its time, i>Turks Fruit gives Monique van de Ven and Rutger Hauer a showcase for some absolutely stunning performances—and gave Verhoeven the success of calling only his second film one of the most widely-seen Dutch films of all time.
---
6. Soldaat van Oranje (Soldier of Orange) (1977)
Director: Paul Verhoeven
Soldaat van Oranje focuses on a young group of students in the Netherlands at the onset of WWII. Still in the middle of their initiation period at the university, and forced to adhere to whatever the older students may request of them, the students don't really know much of whom they are. When Erik (Rutger Hauer, like Leonardo DiCaprio to Verhoeven's Scorsese) and two other freshmen try to escape humiliation one day, Erik is caught by the leader of the older group and is beaten unconscious. This scene sets the ton for the rest of the film.
Eventually, Erik and his friends Lex (Derek de Lint), Guus (Jeroen Krabbé), Jan (Huib Rooymans) and Jacques (Dolf de Vries) all find different ways to adjust to the ensuing war. When it is announced in September 1939 that the UK has declared war on Germany, reality sets in: The friends all set out on their own missions, each joining their own forces—the SS, Dutch army, the Gestapo—putting their friendship through the ultimate test. Only a few survive.
Based on the autobiographical book by Erik Hazelhoff Roelfzema, a 4th class knight of the Military William Order, Soldaat van Oranje and Verhoeven took the title of most expensive Dutch film ever made from his own film, Keetje Tippel, costing between five and six million Guilders to make, and, despite broad critical praise, losing out the Best Foreign Language Film Golden Globe to La Cage aux Folles in 1980.
---
5. Ciske de Rat (1984)
Director: Guido Pieters
The opening song to Ciske de Rat introduces the story's protagonist, Ciske (Danny de Munk), as an unlikeable, disrespectful little jerk when he sings, "Krijg toch allemaal de klere, val voor mij part allemaal dood." ("Fuck off all of you, for all I care, drop and die.") But as the song goes on, it becomes clear that though he may be a cheeky little monkey, all he really wants is someone to love, two soft arms around him to protect him—he feels so fucking alone:
Ciske, Holland's favorite street kid, has had it rough. His father is a seaman who's hardly ever home, and his mother (Willeke van Ammelrooy) couldn't care less about him. He spends his days getting up to all types of mischief; he's sent home from school several times per week for bad behavior. But when the new teacher Meester Bruis (Herman van Veen) arrives and wins his trust, Ciske actually starts enjoying school. Even his father returns for a time and falls for Tante Jans (Linda van Dyck). Things start looking up for Ciske…until one day when his mother drives him to an unspeakable act, and everything spirals out from there.
Ciske de Rat is based on one of three books from the Ciske trilogy (Ciske the Rat, Ciske Grows Up, Ciske the Man) by Piet Bakker, written between 1941 and 1946. The first movie was made in 1955, but it was Guido Pieters' version that attracted a large audience and Danny de Munk even scored a big hit with the theme song Ik voel me zo verdomd alleen ("I feel so fucking alone"). In 2007, the musical premiered, introducing the entire trilogy at once.
---
4. De Vierde Man (The Fourth Man) (1983)
Director: Paul Verhoeven
Most writers tend to live in worlds of their own concocting, surfing the waves between reality and fantasy, but for writer Gerard Reve (Jeroen Krabbé), it is becoming increasingly hard to distinguish between the two. The conflict between his catholic faith and his sexual desires is taking a toll on him, often manifest through hallucinations riddled with catholic symbolism. When he meets femme fatal Christine (Renée Soutendijk) after one of his readings, she invites him to stay at her house, where they share a passionate night together—even though she is in a relationship with Herman (Thom Hoffman). Except: When Gerard sees a picture of Herman, he is immediately smitten, deciding to stay at Christine's a little while longer in the hopes of getting between them and winning Herman for himself. Except: The longer he stays, the more vivid his hallucinations become. When he finds out that Christine has been married three times and lost all her husbands in gruesome manners, Gerard starts fearing he might become the titular fourth man.
Shot through with exaggerated shots and strange angles, The Fourth Man is both an essential glimpse at Verhoeven becoming comfortable with a unique style, and an essentially '80s piece of film.
---
3. Wild Romance (2006)
Director: Jean van de Velde
Herman Brood was Holland's most infamous nationale knuffeljunk ("national cuddle-junkie"), musician and artist. He first started out with The Moans in 1964, where he quickly developed a taste for the amphetamines that were being passed around to keep the musicians awake for their busy tour schedule. He then moved on to play with Cuby and the Blizzards in 1967, but was kicked out of the band when the record label found out about his drug addiction. A few years of chaos, robberies and jail time followed.
When Cuby and the Blizzards got back together for a reunion tour in 1976, Brood was invited along. One night, they were scheduled to play a café in Winschoten when Brood lost his syringe in the trash can. As any good junkie would, he frantically went through the piles of garbage trying to retrieve his life-line, when the owner of the café walked in. Unlike others who would have shown him the door immediately, Koos van Dijk rolled up his sleeves and proceeded to help Brood find his gear. This was the beginning of an intense working relationship: Van Dijk became Brood's manager and remained so until his death in 2001. Brood continued his musical career with a new formation: Herman Brood & His Wild Romanc. He appeared in several movies including Cha Cha, alongside Nina Hagen, Ramses Shaffy and Lene Lovich.
Jean van de Velde's film gives a detailed account of Herman Brood's (Daniël Boissevain) sex, drugs and rock & roll lifestyle between 1974 and 1976. Without turning it into too much of an over-romanticized downer, van de Velde manages to paint an honest picture of Brood and his relationship with drugs, even allowing enough space for a bit of rock-star humor.
---
2. Code Blue (2011)
Director: Urszula Antoniak
Marian (Bien de Moor) is a nurse who is not the warm, friendly and bubbly type we all long for when in dire need of some pity-pampering, nor is she the stern, angry, tough-love nurse we get to see in movies. Marian's character is just severe. She doesn't have a social life to speak of and her communication with her colleagues comes across as unnatural and forced. The only people she really connects to are those awaiting death. With a gentle manner that seems almost bizarre considering her cold character, she cares for them and tends to their needs. And then, when she feels their time has come, she euthanizes them without prior consent and takes little personal keepsakes from them to furnish her otherwise sterile apartment.
When Code Blue premiered at Cannes, the audience was warned with posters stating: "Some scenes of the film may hurt the audience's feelings." Safe to say that makes perfect sense.
---
1. Borgman (2013)
Director: Alex van Warmerdam
Van Warmerdam's latest begins as if it's midway through a twisted dream-sequence: Several mysterious characters emerge from underground shelters in the woods, having just avoided capture following a vicious manhunt. The man who seems to be the leader of these dodgy characters, Borgman (Jan Bijvoet), ends up in a rich neighborhood and knocks on the door of the home of Richard (Jeroen Perceval) and Marina (Hadewych Minis), asking for a place to wash up. Richard reacts rather aggressively to the request, but Borgman remains unfazed and simply returns in the evening when Richard is out. Embarrassed by her husband's behavior, Marina lets Borgman in and then promptly realizes she wants him to stay. Did she just let the devil into her home?
Borgman rarely attempts to explain itself, dancing between perception and reality with vaguely political intent, not quite Lynchian but not exactly ordinary either. Either way, it's a late masterpiece from one of Dutch cinema's masters.